I travelled to Sydney early June 2019, and I tried quite a few different restaurants and cuisines. One of the restaurants that really stood out was the Ribs & Burgers restaurant by The Rocks.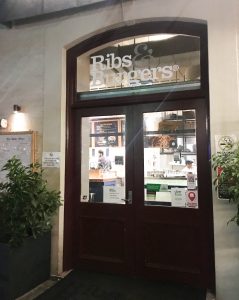 My mum and I were walking around The Rocks area on George street – this was at the time when Vivid, the light festival was being showcased. We were looking at the different light art pieces around the area when we stumbled across Ribs & Burgers. I don't know if it was our hunger or the cold breeze that made us decide to eat there without even looking at the menu, but I definitely don't regret it.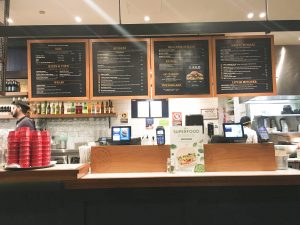 We ordered some BBQ chicken wings and the 'Atlantic Salmon', which was a grilled salmon dish served with either Chips or Apple Cabbage Salad. We swapped the regular chips with sweet potato fries and paid the difference. You have to order at the counter, and you tell them which table you're sitting at, and they bring your food to your table.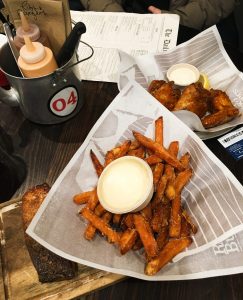 The salmon was grilled perfectly – it wasn't dry or undercooked and the sweet potato fries were delicious! The chicken wings were also cooked to perfection, though looking back they were quite costly – $12.50 for 3 chicken wings! But either way, it was so nice that we were debating on going back there for our last meal in Sydney before we had to leave for the airport!
After doing some research, I realised that Ribs & Burgers has branched out immensely – they have restaurants all around Australia, but also to South Africa and the United Kingdom. They also highly advertise the uniqueness of their 'best burgers' which we sadly didn't get to try when we were in Sydney. But I definitely want to visit their London branch one day.
Quite ironic that the restaurant focuses primarily on ribs and burgers but we didn't end up eating either of them. This was only one of the many restaurants in Sydney I dined in, but I highly recommend it. 
Visit their website here