Now that A-level results are out, you don't have to stress about whether you got the grades for your uni anymore. Most of you now know which university you're going to for the next 3 years. But now you have another thing to worry about: what items to bring to uni with you.
For this post, I wanted to put together the ultimate university packing list. I'm one of many students who are going to university and packing can be quite overwhelming. There are so many items that you need to buy that you sometimes don't even think of.
For people who have never lived away from home before, thinking about what to bring to uni is just added unnecessary stress. I created this list to help minimise that anxiety and stress.
Living away from home is the next step for you to be more independent. But that doesn't mean you can't have a little help, especially at the beginning.
All the essentials you could possibly need are on this list. You can find a free pdf document of all the items listed below here: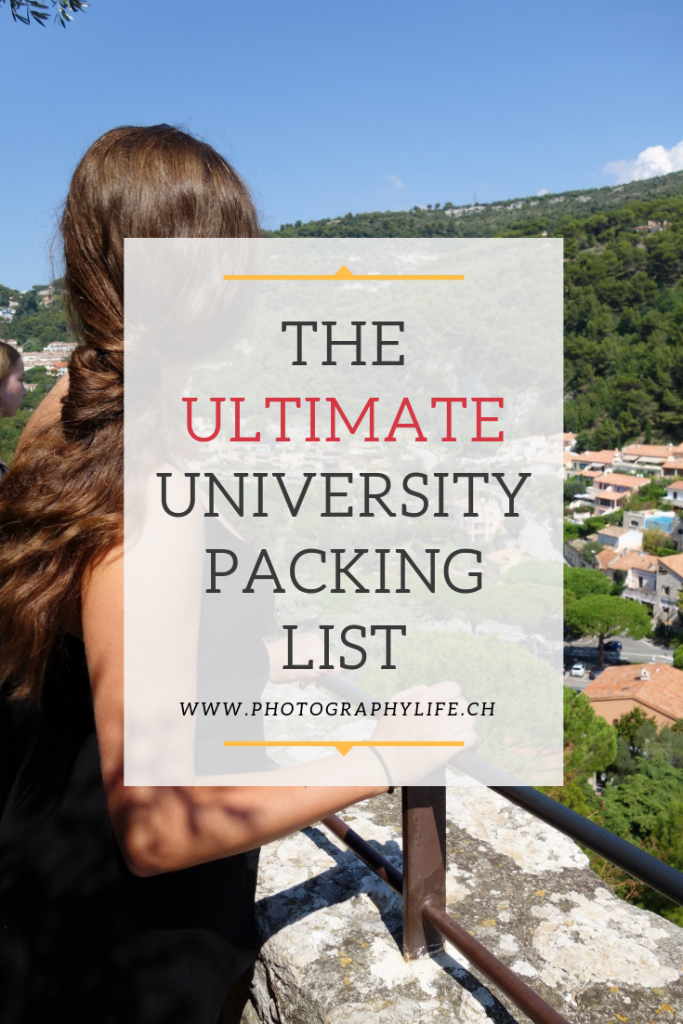 Personal essentials:
Passport/ID

Bank cards

Cash

Wallet/Purse/Handbags

University related documents (e.g. course or accommodation documents)
Electronic essentials:
Phone + charger

Computer + charger

Battery bank

Extension cable

Ethernet cable

HDD + spare USB sticks

Camera + charger

Extra camera SD card/Batteries

Travel adapters

Headphones

Calculator
Kitchen essentials:
Frying pan (wok) with lid

Large stock pot with lid

Small saucepan

Chopping boards

Utility knives

Rice cooker

Wooden spatula

Wooden spoon

Colander

Plates (small, medium, large)

Bowls (small, medium large)

Cutlery (forks, knives, spoons)

Hand towels

Dishcloths

Sponge

Washing up liquid

Tupperware boxes

Clingfilm

Baking paper

Ziplock clips & bags

Oven tray

Cups + Glasses

Water Bottle

Bottle opener
Living/Room essentials:
Digital alarm clock

Storage boxes (for wardrobe, desk etc.)

Pin board pins

Mini tool kit + sewing kit

Pictures/posters for room

Items to decorate room
Laundry + Linen essentials:
Drying rack

2 sets of sheets and pillowcases

Towels

Bath towel (floor mat)

Hand towels

Pillows

Duvet

Duvet cover

Clothes hangers

Laundry basket/bag

Laundry detergent, fabric softener and stain remover
First aid kit:
Paracetamol/Ibuprofen

Lemsip

Antidiarrheal medicine

Constipation tablets

Plasters/Bandages

Cough drops/cough sweets

Allergy tablets
Household essentials:
Paper towels

Trash bags

Plastic storage bags

Wet wipes/Dust sheets

Tissues (box and pocket)
Bathroom essentials:
Shower tote/caddy

Bathrobe

Flip flops/Slip on shoes

Shampoo and conditioner

Face cleanser

Body wash

Body lotion

Hairbrush

Deodorant

Dental floss

Moisturiser (body/face)

Toothbrush + toothpaste

Tweezers

Nail clippers

Earbuds

Makeup + makeup remover

Retainer

Sanitary products

Hair ties

Nail varnish

Nail varnish remover

Cotton pads

Sunscreen

Hair dryer
Desk essentials:
Pens + Eraser

Stapler and staples

Hole punch

Notebooks

Folders

Post-it notes

Paper clips

Tape

Scissors

Highlighters

Pencil case

Ruler

Planner

Paper

Desk lamp + fan
Extras:
Clothes and shoes of your choice

Umbrella

Sunglasses + case

Glasses + case

Glasses cleaner

School bag

Sports bag

Suitcase + locks

Jewelry

Food

Shoehorn

Transport card (train, bus etc.)
There you have it. My ultimate packing list for university students. Click here to download a free PDF of this list to print out. You'll be able to use the PDF to check off everything before you head to your uni.
If you want some inspiration about what you want to achieve from uni, read my post about my personal goals that I'd like to achieve and why.
Lots of love