Are you looking for an okonomiyaki restaurant in Tokyo? I highly recommend Asakusa tsurujirou. They will provide you with a unique okonomiyaki cooking experience. Keep reading if you want to know why.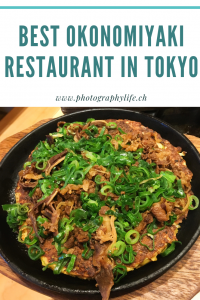 Okonomiyaki is a Japanese pancake, that is made of the basic ingredients of eggs, cabbage and flour. It's then topped with a variety of different ingredients of your choice, such as beef, prawns, onions etc.
One okonomiyaki restaurant in Tokyo that really stands out is Asakusa tsurujirou. I ate there in the Asakusa area back in June, and it was such a good experience and here's why: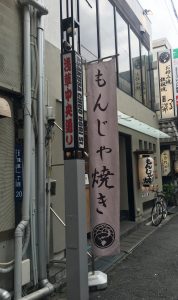 The waiting time
When walking around Tokyo, you often see many little restaurants in the alleys of main roads. It's difficult to judge which restaurants are good and which aren't, and unfortunately using TripAdvisor isn't that helpful in Japan as a tourist.
There are a few reasons why TripAdvisor doesn't work well in Japan. A big issue that we encountered was that the names of the restaurants were written in English on TripAdvisor, and then all the signs were in Japanese when we went to search for the restaurant. It was difficult to know which restaurant was the one we were originally looking at on the app.
We always looked at whether a restaurant had a queue or not, and at what time of the day this queue was occurring. This is a good indication of whether the restaurant is good or not.
You can tell a restaurant can't be that bad if there are lots of locals queuing up for it at a non-peak hour.
Asakusa tsurujirou had a queue of at least 8 people, and this was around 4 pm. Thankfully, the restaurant had an English menu available for people queuing. This allowed us to decide what we wanted to order prior to getting our seats.
---
---
The seating arrangement
There are two floors in the Asakusa tsurujirou restaurant – I highly recommend you sit upstairs.
The seating on the ground floor was just regular tables and benches, whilst the upstairs had a more traditional seating, where you sit on the floor and have a hot plate in the middle of the table.
They asked us to take off our shoes and put them in a locker. The locker key was attached to a special plastic crane keychain which I found adorable and unique.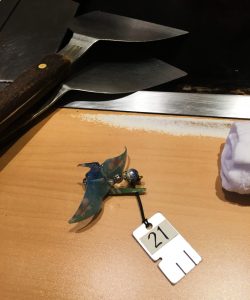 They showed us to our seats, where we sat on the floor, in a very traditional Japanese seating arrangement. There was a hot plate in between us, where we cooked our okonomiyaki.
The unique cooking experience
We ordered the traditional, original okonomiyaki dish. The waitress asked us if we'd like to make it ourselves, or if the chef should pre-cook it for us. We decided to make it ourselves. We also ordered another beef okonomiyaki dish, which came pre-cooked.
The first dish that came was the original okonomiyaki dish. This came in a pot: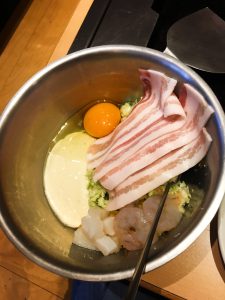 We first took out the bacon slices and cooked those on the hot plate. Whilst the bacon was cooking, we mixed the rest of the ingredients in the pot together.
We then poured the whole contents onto the hot plate and adjusted it so it was flat and round. We let that cook for 5 minutes before we flipped it over and cooked the other side.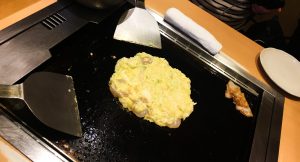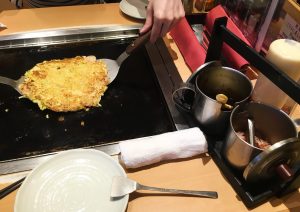 Once the okonomiyaki was brown on both sides, we put the cooked bacon on top, and then we decorated it with the okonomiyaki sauce, mayonnaise and thin pieces of onion. This was our final masterpiece: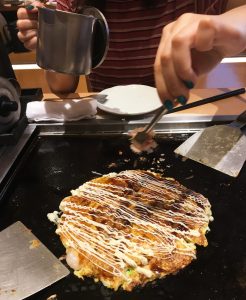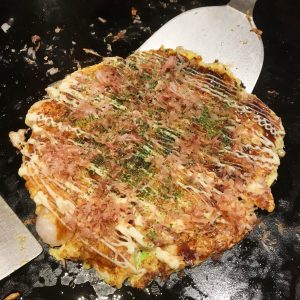 Once we finished the first original okonomiyaki dish, they gave us the second dish which was already pre-cooked by the chefs. It was regular okonomiyaki, topped with onions and beef on top.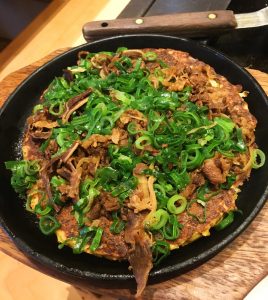 ---
---
The souvenirs
After we finished eating, we noticed a sign next to us that said we could get a free handmade, plastic crane keychain if we write a review for the restaurant like the locker keychain.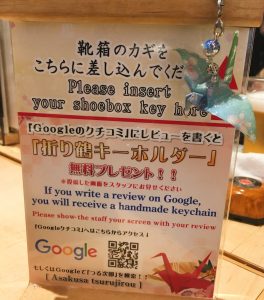 We were so excited and happy about the whole experience at Asakusa tsurujirou that we decided we would both write a review about the restaurant so that we could get two keychains as souvenirs from the restaurant.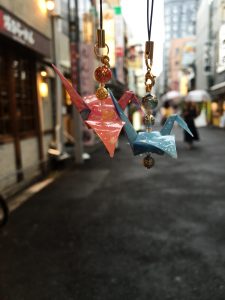 Conclusion
Honestly, we had such a fun experience at the Asakusa tsurujirou. If you're looking for an okonomiyaki restaurant in Tokyo, I highly recommend eating there. The waiting time wasn't too long – it was probably around 30 minutes, but it was definitely worth it. The taste of the okonomiyaki was delicious, and it was so unexpected that we would be cooking it ourselves. Mixing the ingredients and cooking it ourselves made the experience a lot more special.
The free keychains were an added bonus that we didn't expect to receive either. 
Address: Asakusa tsurujirou
1 Chome-20-8 Asakusa, Taito City, Tokyo 111-0032, Japan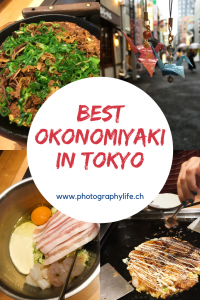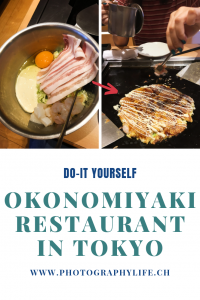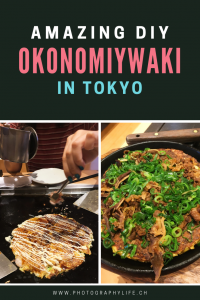 Looking for more inspiration?