Being a student at university can cause severe issues with finances. Student budgeting is one of the most important lessons to understand, and it usually is not taught to students. Integrating into a completely different environment is stressful enough, but needing to manage your finances is another essential part of university life. Learning how to budget properly during university will save you time, money and stress in the long-run. That's why I wanted to track my own budget and help others see how much they differ from my own expenses. It's also a way for me to see how my spending habits change over time, so I can change my habits accordingly.
The plan was to track my budget every month from January 2020 onwards. However, with all the global difficulties occurring, I won't be able to do that anymore. This post is dedicated to my February finances, however I won't be able to continue these logs as these unprecedented issues have impacted many students across the globe – myself included.
I've been tracking this pandemic for a while, and half way into March I knew that many countries wouldn't be able to hold out much longer – including the UK. I expected my university studies to be impacted, and it has. It was recently announced that all our physical classes were cancelled for the rest of the academic year. I'm hoping to write another post about how this virus has impacted my university life soon. 
Even though these expenses don't mean much to you reading this – I do think it's important for me to know how much I spent in the first two months of the year, so when I hopefully return at the end of September, I'll know what to expect in terms of spending.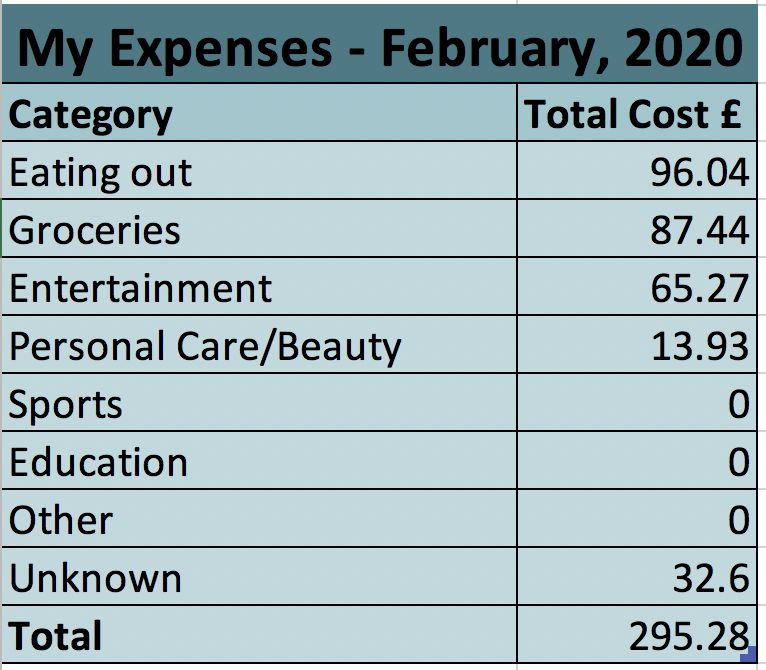 I tried to keep my budget on £10 a day – £300 a month. So even when I didn't spend the £10 pounds on some days, I could use it on other days. Looking at my budget tracker, I just managed to spend below my limit. I'm glad I spent less than my budget, however when I looked through my spending habits, I wasn't able to track £32.6 pounds. I don't know how or when I spent that money, so that's something I need to look out for next time. I want to know exactly how much I spend and where I spend it, so creating a section called "unknown" doesn't quite sit well with me.
I also spent almost £100 pounds eating out. As a student, I definitely need to focus more on cooking the food I have at home before it goes off. I actually love making homemade food, but I find it difficult to cook for just myself sometimes.
The entertainment category essentially refers to going out to the pub or a nightclub. Spending £65.27 pounds on going out doesn't seem like that much compared to many other university students. Clubbing and pubs seem to be a very integrated part of university life, however I personally can't hack it more than once a week. Depending on my schedule for uni, I'm usually too tired to stay up the whole night. Even so, I spent more money this month going out than usual – again I think that's because my friend was here so we went out more than usual.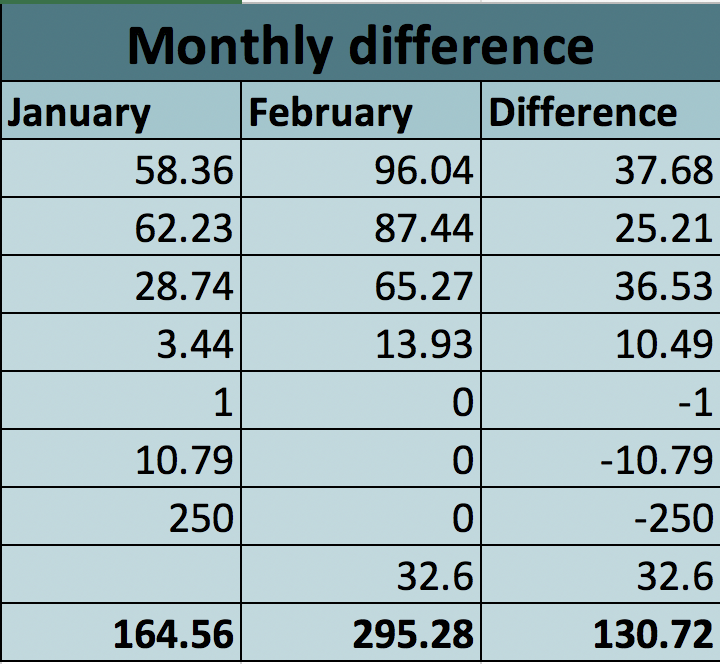 Looking at the difference between my January and February expenses, I spent more this month in almost every category. But looking back, I had exams for a large part of January, so I went out a lot less in terms of both eating out as well as going clubbing. Ultimately, I think my spending habits are decent for a university student – there are some areas I want to improve, but unfortunately I won't be able to continue tracking my university expenses until at least next September. I've left my university accommodation early, as all my physical classes have been cancelled.
---
Too busy? Pin the images below to save for later 🙂
---